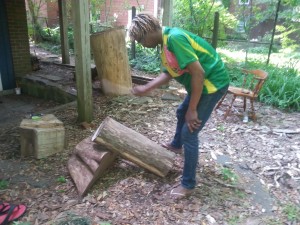 Ibrahim N'Diaye
Wood Sculptor from Bandiagara, Mali; currently residing in Takoma Park, MD.
Biography
Ibou N'Diaye is a traditional Malian sculptor. He comes from a region in Mali known as "Dogon Country" which is known as a center for African Sculpture. He learned to sculpt using traditional tools such as hatchets, chisels, files and adzes. He prefers to work with very hard woods, such as ebony and mahogany. Ibou combines both modern and traditional imagery in his sculptures. Ibou first came to the United States in 1999, and he has shown his art in many galleries and juried art exhibits. He also worked as a "Teaching Artist" for the Commonwealth of Pennsylvania. Ibou has also worked as an artist-in-residence at several Universities.
Artist Statement
When I sculpt, I am recovering hundreds of years of lost harmony of the people. In the past, people
were proud of their work and did it with skill and power. People recognized of what you are capable. We have lost this belief. It is up to us the artists, to recover the harmony we held in the past. My art is a call to all who love harmony in the world. I want them to think of it again and share it with those who have lost this harmony. My sculptures embody this rediscovered harmony. It isn't something I invent, it is innate. When I work, it comes out of me to touch others and try to speak to them. My sculptures speak my truth.