Griots, also known as "djelli" in Bambara and "bambadjo" or "gnegno" in Fufuld
e are the keepers of history and tradition. "Djeli" in Bambara means "blood" because they are the blood of the people. In the past they accompanied kings and nobles as part of their entourage or court, and announced visitors. They provided a summary of their lineage and feats. They also told the stories of the king, nobles and their families. They are very important in a culture where knowledge and history are conveyed orally.  Now they are famous top singers and musicians, such as Babani Kone, Kasedi Diabate, Bazoumana Sissoko, Bara Sambarou, Bella Oumar Bella, and Toumani Diabate.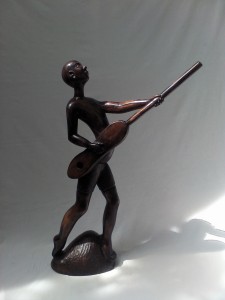 Ibou's sculpture "Griot" shows a griot holding an n'goni, which is a  3- to 8-stringed lute. The N'goni is a very popular instrument among griots Mali.  They are also known for playing the 21-string harp called a kora. In this video, Modibo Kouyate  demonstrates how an acoustic guitar can simulate the sounds of both instruments. Keep watching the video to hear a lovely song performed by his wife, Tata Bambo.   This video of a performance in Mali by Babani Kone and the guitarist Modibo Gauche shows how these performers are adored by the Malian people.  Toumani Diabate is perhaps one of the best known Malian artists, specializing in the kora.  In this video, he performs with the legendary Ali Farka Toure. Enjoy watching this performance, because it captures the depth and beauty of Malian music. You can clearly hear (and feel) the roots of American Blues, which have been traced back to Mali by musicologists. Read more about the connection in this blog by Kevin Eze. Vieux Farka Toure carries on the griot tradition of his father, and performs around the world. He has a new album titled "Mon Pays." listen to some of the tracks on Vieux's website. 
The unique importance and power of the griot tradition in Mali was recently demonstrated in response to the invasion of Mali's north by Islamic extremists.  They tortured people, destroyed historic treasures and attempted to burn down the famous Islamic library of Timbuktu. In imposing sharia law, they attempted to rob Malians of their music and art.  In response, Fatoumata Diawara called on artists from across Mali to create a recording of "Mali-Ko"  Mali peace.  Watch this video of the performance and you will see the greatest artists from Mali today, all joining their voices to remind Malians of who they are and calling on them to unite and bring peace back to their country.
Mali's griots counsel listeners to be proud of who they are, remember their history, and strive to honor their parents and ancestors.  Griots seek to know and share the history of the people they are honoring, particularly at weddings, funerals, festivals and gatherings of all kinds.  Ibou's sculpture of the griot embodies the pride, leadership and strength griots bring to the Malian people.